Who's ready to light up the night for View Ridge? The Country Nights: Blaze a Trail Auction is on its way and the deadline to donate items and secure a sponsorship is Tuesday, February 28. It's coming up sooner than you think so don't hold your horses, get your giving done before mid-winter break!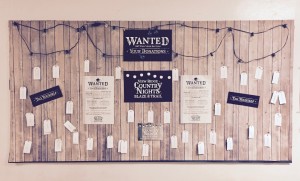 What can you donate? Check out the Wish List Wall for tags that still need a home like:
Host a humdinger of a party
Offer a unique experience
Give the gift of travel
Donate cash and we'll rope together a package
Let's make the auction a blazing success!
We'd like to give a few notes of gratitude…
Thank you to Cory Na and Sunshine Feldman, the Auction Procurement Chairs! They've been hard at work rounding up awesome donations and sponsorships to get our auction off to a good start so get ready to Blaze a Trail with the wonderful items that will be up for grabs. Thanks Cory and Sunshine!
Thank you to our View Ridge community of parents, teachers, staff, businesses, neighbors and friends! We have a rich network of people who share our commitment to education and building a future for our community. Their kindness and generosity to our school is greatly appreciated.
A few dates to remember:
★ Tuesday, February 28: Last chance to donate or sponsor auction
★ Wednesday, March 8: Auction online ticket sales begin
★ Thursday, March 30: Online auction begins
★ Thursday, April 6: Online auction ends
★ Friday, April 21: Country Nights Auction
To donate an item or sponsor the auction click here.
Questions? Contact Auction Co-Chairs Ann Sattler & Becky Aronchick.