May is Asian/Pacific American Heritage Month.
A lot of Asian American Pacific Island (AAPI) history is eradicated from our history books and it is important that we learn more history of our friends and neighbors to see them wholly and understand their lived experience.
We know that the Chinese helped build the Pacific Railway Line, but resulted in the 1882 Chinese Exclusion Act. This was the only immigration law that was designed to block immigration from one specific country and spurred rhetoric of "undesirables" and was ineligible for citizenship until 1943.
Did you know that despite the internment of Japanese Americans, the most decorated military unit in US military history is the 442nd unit. This is a unit of mostly second-generation Japanese Americans who fought in World War 2. Our first Japanese American Congressman, Daniel Inouye, served in this unit.
Learn more from the Library of Congress https://asianpacificheritage.gov/
Graphic Novels
by Lily LaMotte (Goodreads Author), Ann Xu (Illustrations)
Twelve-year-old Cici has just moved from Taiwan to Seattle, and the only thing she wants more than to fit in at her new school is to celebrate her grandmother, A-má's, seventieth birthday together.
Since she can't go to A-má, Cici cooks up a plan to bring A-má to her by winning the grand prize in a kids' cooking contest to pay for A-má's plane ticket! There's just one problem: Cici only knows how to cook Taiwanese food.
And after her pickled cucumber debacle at lunch, she's determined to channel her inner Julia Child. Can Cici find a winning recipe to reunite with A-má, a way to fit in with her new friends, and somehow find herself too?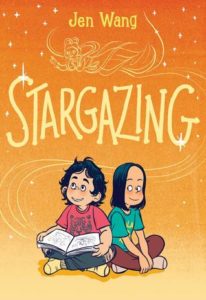 by Jen Wang
Moon is everything Christine isn't. She's confident, impulsive, artistic . . . and though they both grew up in the same Chinese-American suburb, Moon is somehow unlike anyone Christine has ever known.
When Moon's family moves in next door to Christine's, Moon goes from unlikely friend to best friend―maybe even the perfect friend. The girls share their favorite music videos, paint their toenails when Christine's strict parents aren't around, and make plans to enter the school talent show together. Moon even tells Christine her deepest secret: that she sometimes has visions of celestial beings who speak to her from the stars. Who reassure her that earth isn't where she really belongs.
But when they're least expecting it, catastrophe strikes. After relying on Moon for everything, can Christine find it in herself to be the friend Moon needs?
New York Times–bestselling author-illustrator Jen Wang draws on her childhood to paint a deeply personal yet wholly relatable friendship story that's at turns joyful, heart-wrenching, and full of hope
Movies for Kids (G)
Moana
Streaming Platform: Disney+, Rent on YouTube, Amazon Prime or Apple TV
DVD available at Seattle Public Library
An adventurous teenager sails out on a daring mission to save her people. During her journey, Moana meets the once-mighty demigod Maui, who guides her in her quest to become a master way-finder. Together they sail across the open ocean on an action-packed voyage, encountering enormous monsters and impossible odds. Along the way, Moana fulfills the ancient quest of her ancestors and discovers the one thing she always sought: her own identity.
Age Rating: 6+ Common Sense Media reviews
Big Hero 6
Streaming Platform: Disney+, Rent on YouTube, Amazon Prime or Apple TV
DVD available at Seattle Public Library
Robotics prodigy Hiro (Ryan Potter) lives in the city of San Fransokyo. Next to his older brother, Tadashi, Hiro's closest companion is Baymax (Scott Adsit), a robot whose sole purpose is to take care of people. When a devastating turn of events throws Hiro into the middle of a dangerous plot, he transforms Baymax and his other friends, Go Go Tamago (Jamie Chung), Wasabi (Damon Wayans Jr.), Honey Lemon (Genesis Rodriguez) and Fred (T.J. Miller) into a band of high-tech heroes.
Age Rating: 7+ Common Sense Media reviews
Narrative Movie for Teens and Adults
To all The Boys I Loved
Streaming : Netflix
To All the Boys I've Loved Before is a 2018 American teen romantic comedy film directed by Susan Johnson and written by Sofia Alvarez. The film stars Lana Condor, Noah Centineo, Janel Parrish, Anna Cathcart, Madeleine Arthur, Emilija Baranac, Israel Broussard, and John Corbett
Rating : 13+ Common Sense Media
Yasuke
Streaming : Netflix
In feudal Japan, a samurai warrior of African descent must return to his life of sword and violence in order to protect a mysterious girl from dark forces.
Rating : 13+
The White Tiger
Streaming : Netflix
To All the Boys I've Loved Before is a 2018 American teen romantic comedy film directed by Susan Johnson and written by Sofia Alvarez. The film stars Lana Condor, Noah Centineo, Janel Parrish, Anna Cathcart, Madeleine Arthur, Emilija Baranac, Israel Broussard, and John Corbett
Rating : 16+ Common Sense Media