Volunteer
View Ridge Elementary's community thrives on the participation of volunteers in our community. Join us on field trips, in the office, website management, setting up for events, assisting teachers, and more! If you're already approved to volunteer and ready to sign up for a job, click on over to our Member Planet page for opportunities:
How to Volunteer IN-PERSON at View Ridge Elementary
To volunteer at View Ridge Elementary, proceed with our three-step process: 
Get approved by SPS.  Click here to complete the SPS volunteer application, update your school selection, or check your approval status.  Once you are approved, you will be assigned a volunteer ID number.  Please indicate your ID number on the sign in sheet each time you arrive at school to volunteer.  A list of the approved volunteers and ID numbers will be available at the office.
Join the View Ridge Elementary PTA (recommended, but not required). The PTA's insurance policy may help protect PTA members from personal liability arising from volunteering activities at PTA-sponsored events.
Sign up! See our current volunteer needs on our Member Planet page or email volunteer@viewridgschool.org
Gratitude Project is a joint venture from VRE Race & Equity Team and VRE PTA DEI
This is a scholar and adult volunteer opportunity. Join us the week of Thanksgiving to help hang our Gratitudes at the 4th/5th Grade Park
Monday 3PM
Tuesday 10 AM (pending rain)
Wednesday 10 AM (pending rain)
DADS at school volunteering is a national movement happening. 
The benefits of the program are many, according to WATCH D.O.G.S. Founder Jim Moore.
Schools gain an extra set of eyes and ears. The presence of a father or father-figure enhances a sense of security at the building for students and staff and helps create an environment conducive to learning.
Students gain a positive male role model. Many students do not have a father-figure present in their home and these students benefit when a positive male role model is present.
Adult Men get a glimpse of their child's everyday world and learn about the increasingly complex challenges and decisions today's youth are facing. As a result, they can learn to relate better to their child and hopefully connect with them.
Fathers and Adult men gain a greater awareness of the positive impact they can have on their child's life in three critical areas including: academic performance, self esteem, social behavior.
Buddy Program
Make an in-class connection for your student! Are you interested in having your child make a friend in their class? The Buddy Program can help them find a buddy who shares their interests, and help you connect
your families. You can choose to meet remotely, or in-person! Sign up for our Buddy Program here, or email our PTA Buddy Program volunteers Vandna Milligan & Kaelyn Langer-Mendonca at afterschool@viewridgeschool.org
Support the Yearbook Committee! We need volunteer photographers and people who can do some layout work. 

Contact Chair Jen Beaverson to help!
Vaccine Clinic Volunteer Sign-Up Genius link.
Volunteers need to:
Be vaccinated
Watch the SPS Health and Safety Video
Complete the SPS Health Attestation before or when they arrive at the building.
But they do not need to have completed the regular SPS volunteer process.
Volunteer jobs include:
Greeter: Confirms appointment, provides paperwork, answers questions about forms (this can be done sitting)
Wayfinder: Supports patient flow, manages line, coordinates with vaccination team, confirms forms are filled out (usu. requires standing)
Post-vaccination Observer: Watches patients for signs of emotional or physical distress, loosely tracks wait times (sitting or standing)
.
Vaccinated Library Volunteers needed! Help support Ms. Young, our school librarian.
Get approved as an SPS Volunteer and email volunteer@viewridgeschool.org
With the possible disruption of bus transportation due to the Governor's Vaccination Mandate, we are asking everyone in the community to ask for support or help support other students to get to school. 

Can you help with walking, carpooling, or biking with another kid?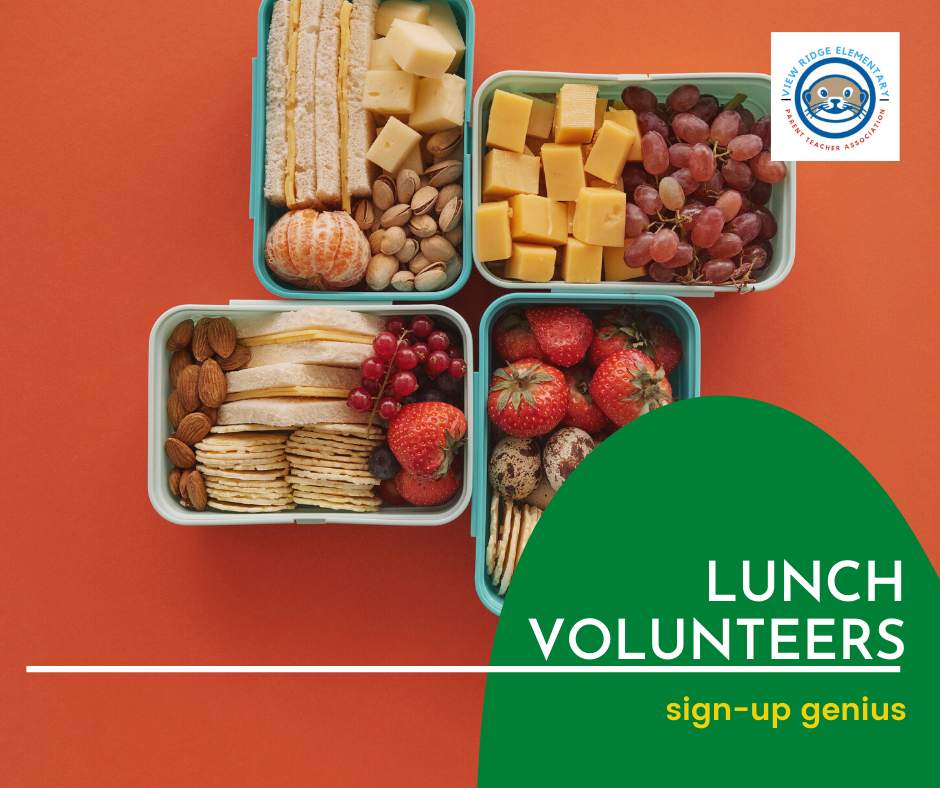 We are looking for 2 UNPAID / 2 Backup Vaccinated Volunteer to help facilitate and oversee our students during our lunch/recess at View Ridge Elementary
This is an unpaid opportunity. 
First lunch begins at 10:35 am and the last lunch ends at 11:35 am…not including last recess which ends at 11:55 am. 
The hourly staff will not be transitioning to the last recess but will complete their day at 11:45 am. Report time 10:20 am end time 11:45 = 1.5 hours.
Volunteer for Lunchroom Support Today!
TRAINING POWERPOINT ON LUNCH