Volunteer
View Ridge Elementary's community thrives on the participation of volunteers in our community. Join us on field trips, in the office, website management, setting up for events, assisting teachers, and more! If you're already approved to volunteer and ready to sign up for a job, click on over to our Member Planet page for opportunities:
How to Volunteer IN-PERSON at View Ridge Elementary
To volunteer at View Ridge Elementary, proceed with our three-step process: 
Get approved by SPS.  Click here to complete the SPS volunteer application, update your school selection, or check your approval status.  Once you are approved, you will be assigned a volunteer ID number.  Please indicate your ID number on the sign in sheet each time you arrive at school to volunteer.  A list of the approved volunteers and ID numbers will be available at the office.
Join the View Ridge Elementary PTA (recommended, but not required). The PTA's insurance policy may help protect PTA members from personal liability arising from volunteering activities at PTA-sponsored events.
Sign up! See our current volunteer needs on our Member Planet page or email volunteer@viewridgschool.org
May Lunch & Recess Sign-up
May 2022 Volunteer Opportunities & Events
May 14 – Pre-Loved Book & Bake Sale


SATURDAY MAY 14, 9-12, View Ridge Primary Playground Covered Playcourts
Donations will be stored in our school library, and soon, donation carts will be available inside both the "Flagpole" and the "Backdoor Cafeteria" entrances. Look for flyers going up around school, and stay tuned for more information! We will be collecting kids, teen, and adult books. Something for everyone!
Lots more details will be coming soon!
Can't wait to see you all there!
MAY VOLUNTEER OPPORTUNITY – MAY 14 at 10 am
 Emergency Storage Container Cleanout
Ms. Seasholes is our Safety Leader and has been working at preparing us for a school-wide major evacuation drill. We need 8-10 folks to come out and help on a Saturday in May 14th for a few hours.
 Please contact Alynda our school admin secretary at the numbers above if you are interested. The second need is hats and gloves for the emergency supply kit. This is in the event we must evacuate in cold weather. 
Showing up in our neighborhood school means showing up for our community. Our kids learn about leadership and civil service in their classrooms – volunteering for the PTA is a great way to put these values into action!
Our schools provide an amazing education, foster relationships, and deepen community connections. The PTA advocates for all View Ridge scholars and aligns our community values. We support and amplify the calls of our teachers and staff – some of the most inspiring leaders around.
There are an infinite number of ways to make a difference. Please, come as you are – contribute your talent to help build community. If you would like to learn more email volunteer@viewridgeschool.org
5th Grade Promotion Volunteers
4th and 5th grade families! We need support to help set up for the event.
Riser Setup
Monday, 6/13 to setup risers
4th Grade Parents 
Usher / Volunteers to set up chairs on Friday, June 17th fro 11:45 – 1:45 PM
contact Sunshine 
Field Day Event will be happening in June. We will need vaccinated volunteers.
Family Dance Friday, June 10
Family Family Dance Setup at 5-6PM
Board Game Monitor 6-8PM
Clean up 8-9PM
Email Bonnie at bmoonrise7@hotmail.com
Support the Yearbook Committee! We need volunteer photographers and people who can do some layout work. 

Contact Chair Jen Beaverson to help!
Ongoing Volunteer Support
OTTER PACKS
Where: Saint Stephen's Church 4805 NE 45th St.
Great Hall-Take the easternmost stairs down.
View Ridge Elementary continues to provide weekend food bags through the school year to EMS and the feeder elementary schools. To sign up to deliver, please visit 
Saint Stephen's Episcopal Church is providing space for assembling and storing weekend food bags. 
Please sign up. Thank you for supporting our students.
(Everyone should take appropriate safety measurers – social distancing, use of hand sanitizer, and mask.)
Vaccinated Library Volunteers needed! Help support Ms. Young, our school librarian, and help her sort books.
Get approved as an SPS Volunteer and email volunteer@viewridgeschool.org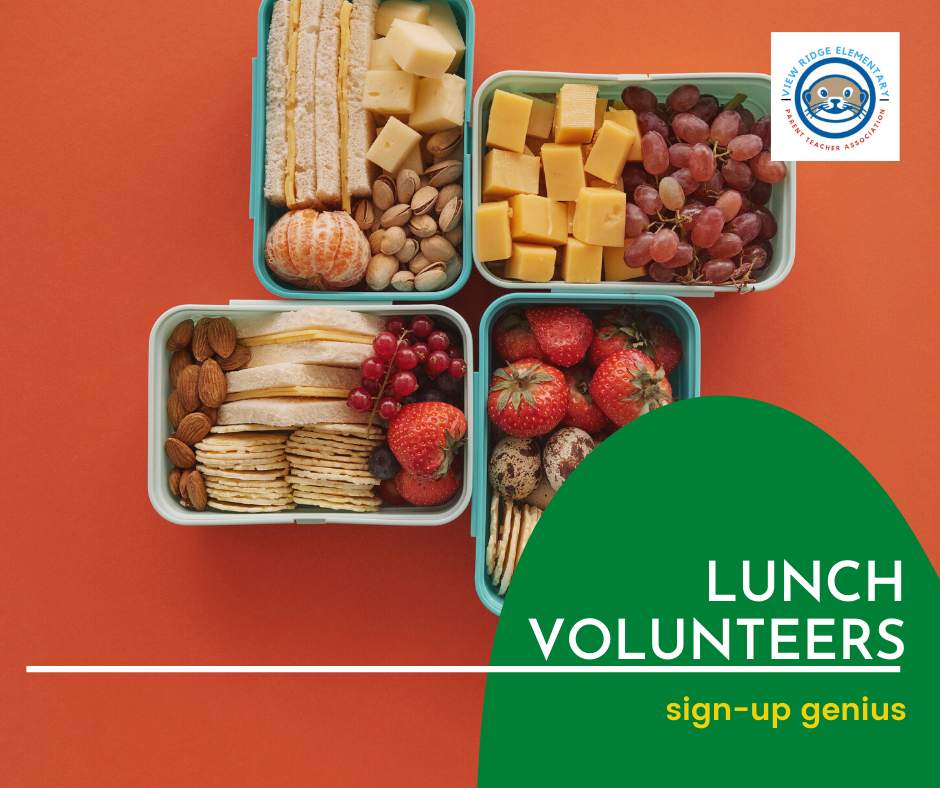 We are looking for 2 UNPAID / 2 Backup Vaccinated Volunteer to help facilitate and oversee our students during our lunch/recess at View Ridge Elementary
This is an unpaid opportunity. 
First lunch begins at 10:35 am and the last lunch ends at 11:35 am…not including last recess which ends at 11:55 am. 
The hourly staff will not be transitioning to the last recess but will complete their day at 11:45 am. Report time 10:20 am end time 11:45 = 1.5 hours.
Volunteer for Lunchroom Support Today!
DOWNLOAD THE TRAINING POWERPOINT PRESENTATION HERE