Volunteer
View Ridge Elementary's community thrives on the participation of volunteers in our community. Join us on field trips, in the office, website management, setting up for events, assisting teachers, and more! If you're already approved to volunteer and ready to sign up for a job, click on over to our Member Planet page for opportunities:
How to Volunteer IN-PERSON at View Ridge Elementary
To volunteer at View Ridge Elementary, proceed with our three-step process: 
Get approved by SPS.  Click here to complete the SPS volunteer application, update your school selection, or check your approval status.  Once you are approved, you will be assigned a volunteer ID number.  Please indicate your ID number on the sign in sheet each time you arrive at school to volunteer.  A list of the approved volunteers and ID numbers will be available at the office.
Join the View Ridge Elementary PTA (recommended, but not required). The PTA's insurance policy may help protect PTA members from personal liability arising from volunteering activities at PTA-sponsored events.
Sign up! See our current volunteer needs on our Member Planet page or email volunteer@viewridgschool.org
Pinwheels for Peace Art Installation Wednesday September 29th 8:15-9:15
An All-School event we can still do!! PINWHEELS for PEACE!!
Pinwheels for Peace is an all-school event that has already begun with every student in VRE creating a pinwheel with representation of peace drawn and written on it! We have been doing this in art class! We will finish the pinwheels and will create our Art Installation of Pinwheels by planting them on the lower field. We will plant our pinwheels and gather for a moment of recognition of the project. We probably can't do the close gathering that we usually do while planting the pinwheels however it will easily be with-in C-19 restrictions. It is done outside and spaced!
If you would like to help with the event check in with the office to fill out volunteer paperwork! We would love the help!
Otter Fund Book Sale will start in November. We will need volunteers to help distribute books in the middle of October. Contact Jen Harris for more info
Vaccinated Library Volunteers needed! Help support Ms. Young, our school librarian.
Get approved as an SPS Volunteer and email volunteer@viewridgeschool.org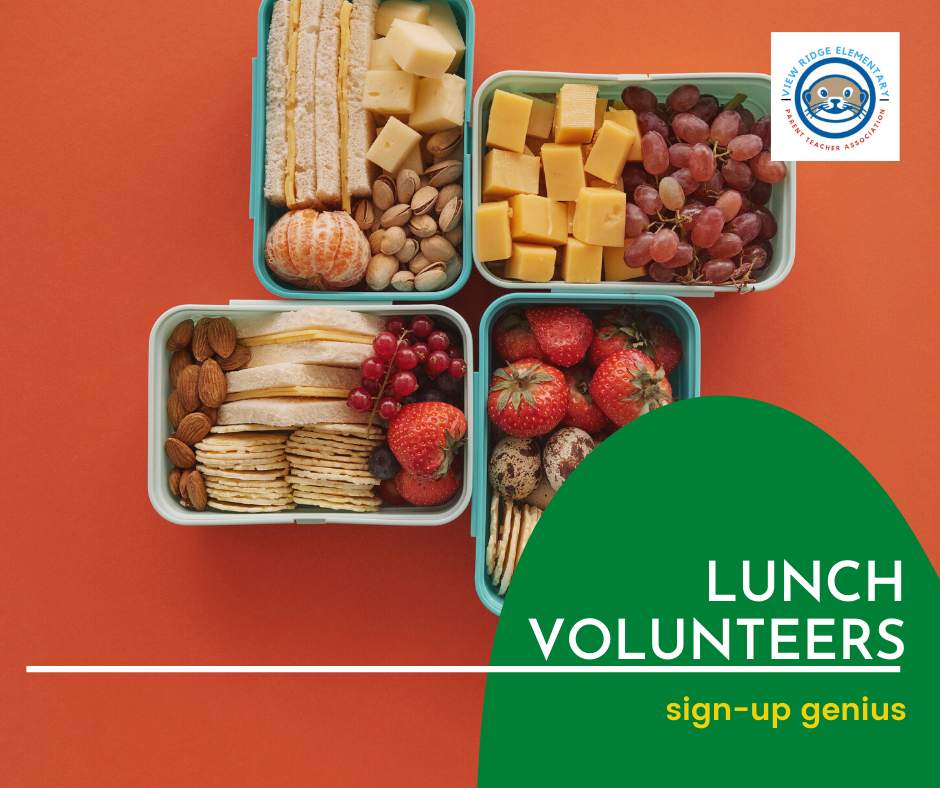 We are looking for 2 UNPAID / 2 Backup Vaccinated Volunteer to help facilitate and oversee our students during our lunch/recess at View Ridge Elementary
This is an unpaid opportunity. 
First lunch begins at 10:35 am and the last lunch ends at 11:35 am…not including last recess which ends at 11:55 am. 
The hourly staff will not be transitioning to the last recess but will complete their day at 11:45 am. Report time 10:20 am end time 11:45 = 1.5 hours.
Volunteer for Lunch Today!