Representation Matters : Hispanic/Latinx
September 15 – October 15 is Hispanic/Latinx Heritage Month.


Do you know the difference between Latinx and Hispanic? Hispanic is in relation to Spain or Spanish-speaking countries, especially of Latin America. A person of Latin American origin or descent. Latinx is used as a gender-neutral term to Latino or Latina


Learn more from the Library of Congress https://www.hispanicheritagemonth.gov/


Books

by Juana and Lucas
Growing readers are sure to fall in love with Juana, the spunky heroine of the Juana and Lucas series. This first book introduces us to Juana, who loves her dog Lucas (of course!), living in Colombia, and drawing. What she hates includes wearing school uniforms and learning English. This hilarious series is continued in Juana and Lucas: Big Problemas.
(Ages 5 – 8)
credit : https://www.readbrightly.com/childrens-ya-books-latinx-authors/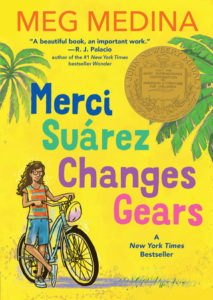 This 2019 Newbery Medal winner is a middle grade must-read. Everything changes when Merci Suárez enters sixth grade. As scholarship kids at their private school In Florida, Merci and her brother don't have the same privileges as some of their classmates. When a new boy at school is assigned to be Merci's Sunshine Buddy, she becomes the target of fellow student Edna Santos' jealousy. And with things getting worse at home as her grandfather's health deteriorates, Merci is left to figure out things on her own in this compelling coming-of-age story.
This title is also available in Spanish: Merci Suárez se pone las pilas

credit : https://www.readbrightly.com/childrens-ya-books-latinx-authors/



Movies for Kids (G)
Coco
Streaming Platform: Disney+, Rent on YouTube, Amazon Prime or Apple TV
DVD available at Seattle Public Library


Coco follows the story of Miguel, a boy who wants to be a musician despite his family's objections, as he visits his relatives in The Land of the Dead to learn about his ancestors and, ultimately, about himself.
Age Rating: 6+ Common Sense Media reviews
Dora and the Lost City of Gold
Streaming Platform: Hulu, Amazon, Apple TV, YouTube, Paramount+
A teenaged Dora the Explorer remains optimistic, intelligent, and generous as she takes adventures that demonstrate the value of teamwork and collaboration.
Age Rating: 7+ Common Sense Media reviews



Narrative Movie for Teens and Adults
Selena : The Series
Streaming : Netflix
The tragic life story of Selena Quintanilla, the Queen of Tejano music and an iconic Mexican-American pop star.
Rating : 10+ Common Sense Media



Real Women Have Curves
Streaming : Hulu, Amazon


Real Women Have Curves is a stage play by Josefina López and is set in a tiny sewing factory in East Los Angeles in September 1987. It is marked by the issues of gender politics and the Latina immigrant experience. The story is told from the point of view of Ana, the youngest employee at the factory.
Rating : 14+ Common Sense Media



Alternatino
Streaming : Comedy Central, YouTube
A collection of sketches based on Arturo Castro's experiences as a Latino millennial in the US. Arturo satirises everything from dating in the age of social media, to US culture and the political climate.
Rating : 16+ Common Sense Media