Positive Male Role Model Volunteers at Recess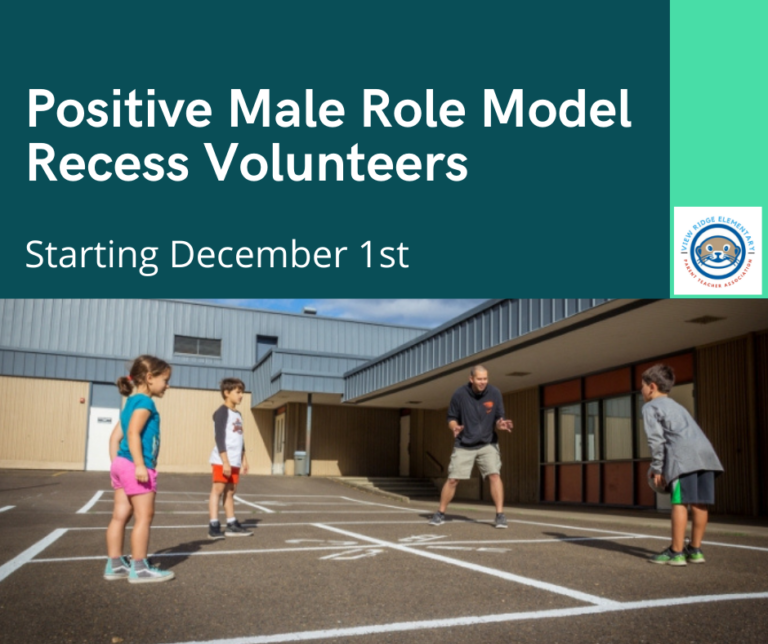 Thank you for your support in helping out View Ridge Elementary's recess.
This is an unpaid opportunity.
Adult males volunteering at school is a national movement.
The benefits of the program are many, according to WATCH D.O.G.S. Founder Jim Moore.
• Schools gain an extra set of eyes and ears. The presence of a father or father-figure enhances a sense of security at the building for students and staff and helps create an environment conducive to learning.
• Children gain a positive male role model. Many children do not have a father-figure present in their home and these children benefit when a positive male role model is present.
• Adult Males get a glimpse of their child's everyday world and learn about the increasingly complex challenges and decisions today's youth are facing. As a result, they can learn to relate better to their child and hopefully connect with them.
• Adult Males/Parents gain a greater awareness of the positive impact they can have on their child's life in three critical areas including: academic performance, self esteem, social behavior.
All Volunteers need to fill out the SPS Volunteer forms (below) and show proof of Vaccination
How to Volunteer IN-PERSON at View Ridge Elementary
To volunteer at View Ridge Elementary, proceed with our three-step process:
Get approved by SPS. Click here to complete the SPS volunteer application, update your school selection, or check your approval status. Once you are approved, you will be assigned a volunteer ID number. Please indicate your ID number on the sign in sheet each time you arrive at school to volunteer. A list of the approved volunteers and ID numbers will be available at the office.
Join the View Ridge Elementary PTA (recommended, but not required). The PTA's insurance policy may help protect PTA members from personal liability arising from volunteering activities at PTA-sponsored events.
Sign up! See our current volunteer needs on our Member Planet page or email volunteer@viewridgschool.org
To update and renew your application click here. Check your status after logging in. Review the FAQ page if you need help interpreting the page.
Review and update your school selection(s). Only schools you select on your volunteer application may contact you.
If this email was forwarded to you and you would like to apply to volunteer for the first time, please click here.
School staff are working hard to finalize preparations for the start of school and may not be able to respond to individual volunteer questions. Each school volunteer program liaison receives their list of past and new volunteers to reach out to if the school needs volunteers.
Please visit www.seattleschools.org/resources to learn more about the latest health and safety updates and key information for the 2021-22 school year.
Thank you for helping create safe and healthy school communities!
SPS Volunteer Program