Volunteer
View Ridge Elementary's community thrives on the participation of volunteers in our community. Join us on field trips, in the office, website management, setting up for events, assisting teachers, and more! If you're already approved to volunteer and ready to sign up for a job, click on over to our Member Planet page for opportunities:
How to Volunteer IN-PERSON at View Ridge Elementary
To volunteer at View Ridge Elementary, proceed with our three-step process: 
Get approved by SPS.  Click aquí to complete the SPS volunteer application, update your school selection, or check your approval status.  Once you are approved, you will be assigned a volunteer ID number.  Please indicate your ID number on the sign in sheet each time you arrive at school to volunteer.  A list of the approved volunteers and ID numbers will be available at the office.
Join the View Ridge Elementary PTA (recommended, but not required). The PTA's insurance policy may help protect PTA members from personal liability arising from volunteering activities at PTA-sponsored events.
Sign up! See our current volunteer needs on our Member Planet page or email volunteer@viewridgschool.org
Programa de amigos
¡Establezca una conexión en clase para su estudiante! ¿Está interesado en que su hijo haga un amigo en su clase? El programa Buddy puede ayudarlos a encontrar un amigo que comparta sus intereses y ayudarlo a conectarse
sus familias. ¡Puede elegir reunirse de forma remota o en persona! Inscríbase en nuestro programa Buddy aquí, o envíe un correo electrónico a las voluntarias del programa Buddy de la PTA, Vandna Milligan y Kaelyn Langer-Mendonca, a afterschool@viewridgeschool.org
VRE Monthly Staff Meeting
The VRE PTA would like to provide snacks & treats to our awesome VRE staff for their Wednesday October 20th after school staff meeting.  Items will need to be delivered to the staff school entrance by the cafeteria no later than Monday, October 18th (7am-3pm) If you need a different delivery day/time please contact Sunshine at sunshinefeldman@live.com  
Thank you in advance for supporting our hard working staff!  Go otters!  
Date: 10/18/2021 (Mon.)
Time: 7:00am – 3:00pm MDT
Location: VRE staff door/back door by cafeteria
With the possible disruption of bus transportation due to the Governor's Vaccination Mandate, we are asking everyone in the community to ask for support or help support other students to get to school. 

Can you help with walking, carpooling, or biking with another kid?
Otter Fund Book Sale will start in November. We will need volunteers to help distribute books in the middle of October. Contact Jen Harris for more info
Vaccinated Library Volunteers needed! Help support Ms. Young, our school librarian.
Get approved as an SPS Volunteer and email volunteer@viewridgeschool.org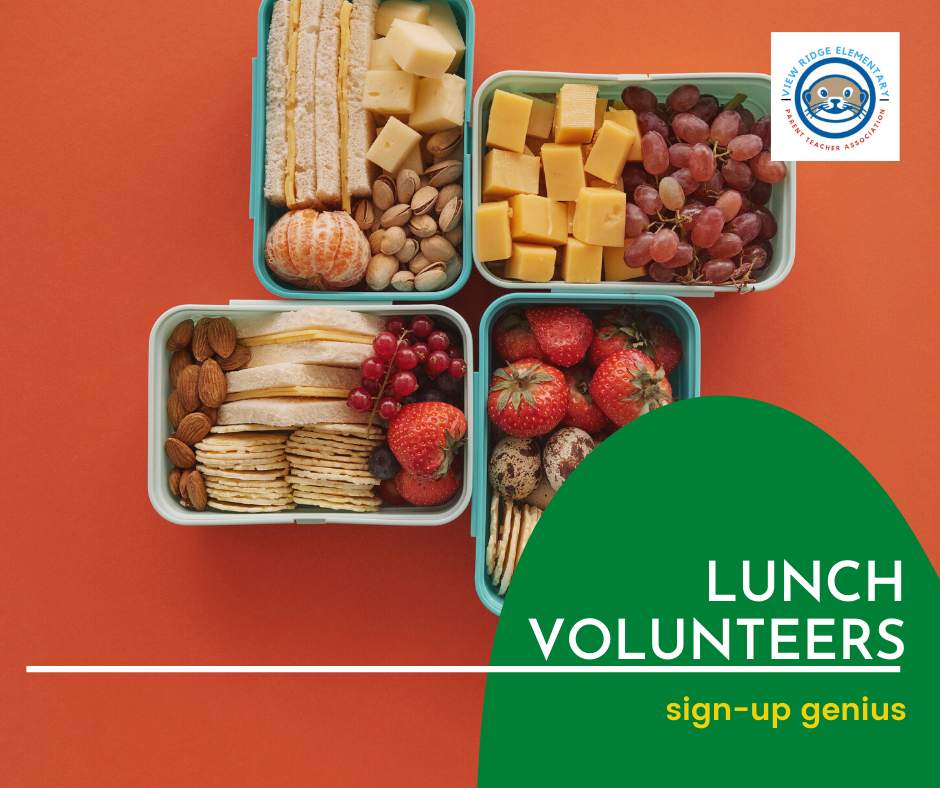 We are looking for 2 UNPAID / 2 Backup Vaccinated Volunteer to help facilitate and oversee our students during our lunch/recess at View Ridge Elementary
This is an unpaid opportunity. 
First lunch begins at 10:35 am and the last lunch ends at 11:35 am…not including last recess which ends at 11:55 am. 
The hourly staff will not be transitioning to the last recess but will complete their day at 11:45 am. Report time 10:20 am end time 11:45 = 1.5 hours.
Volunteer for Lunch Today!