The long-awaited Auction has returned to View Ridge Elementary. Joins us for a night of to remember at Sand Point Country Club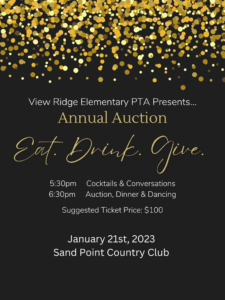 5:30 PM – 6:30 PM Reception
6:30 PM – Dinner, Live Auction and dancing to follow
Spend a night of fun with View Ridge's parents and friends, raising money for much-needed funding to support our staff for unfunded positions by the state.
Suggested dress code: Cocktail Attire!
What's Included:
One signature cocktail, Wine and Beer
Dinner Buffet
Can't Make It? Click the grey DONATE NOW bar above to show your support the Otter Fund.
The Online Auction will open up on January 13th and run until January 22. Please select the auction button to see some of the items we have procured.
Interested in being sponsor of our event? Do you have something you would like to donate to the auction, please reach out to otterfund22@gmail.com
Otter Fund donations will support the following programs:
Library. With Otter Fund support, our library is 100% funded. Without support the librarian would be reduced to a part-time position and the library would be closed every other week.
Nurse. With Otter Fund support we ensure our school has a dedicated school nurse. Without support this position is dramatically reduced and shared with multiple schools in the district.
Counselor. Without support, our scholars would not have access to a counselor in their times of need.
Arts & Music. With Otter Fund support we ensure all grades receive weekly music, movement and art instruction. Without support our younger scholars are at risk of missing out on these critical activities.
Reading Interventionist. With Otter Fund support we increase reading intervention support for our scholars, ensuring every scholar receives the support they need to become strong and enthusiastic readers.