You can help View Ridge earn money with your every day purchases.
REGISTER FOR AMAZON SMILE
It's a simple and automatic way for you to support our PTA every time you shop at Amazon. Simply go to: smile.amazon.com and you'll find the exact same low prices, vast selection and convenient shopping experience as amazon.com, but a portion of the purchase price goes to our PTA!  Just login to Amazon Smile and choose View Ridge Elementary PTA as your non-profit.
BOX TOPS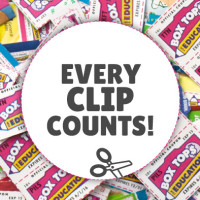 THE NEXT GENERATION OF BOX TOPS IS HERE.
Box Tops is changing to fit today's families. The new and improved Box Tops mobile app uses state-of-the-art technology to scan your store receipt, find participating products and instantly add Box Tops to your school's earnings online.  No more clipping. No more sending Box Tops to school. All you need is your phone. The app will automatically credit your school's Box Tops earnings online.  Twice a year, your school will receive a check and can use that cash to buy whatever it needs!  The PTA fund things like classroom books, supplies & teacher grants.  Please download the App and visit this link for more information:  www.boxtops4education.com/
ONLINE MALL AT ESCRIP.COM
Go to www.escrip.com and sign in if you have already registered your Safeway card as noted above. (If you need to sign up, use our school ID #8567592. If you type in View Ridge Elementary, make sure it is the one located on 50th since there are multiple View Ridge Elementary schools.)
Register your credit card and/or debit card numbers.  When you shop online, go to www.eScrip.com. Click on "At the Online Mall" and then select the site you want (e.g.Macy's, Lands End, Gap, Nordstrom, Pottery Barn, car rentals, J Crew, and many more). Pay with one of the registered credit/debit cards. Each store gives a certain percentage of your purchase to our school (the percentage appears in the online mall).
REGISTER CLUB CARDS
FRED MEYER
Every time you use your Fred Meyer Rewards Card linked to View Ridge PTA, the school will accumulate points. At the end of each quarter, Fred Meyer will make a donation to participating nonprofits based on the accumulated spending of the Rewards customers linked to each nonprofit.
To register:
Click on "Link your Rewards Card Now"
Create an account or Log In. If you don't have your rewards number, you should be able to enter your 10-digit phone number you used when you opened your account.  Having trouble getting it to work? Call customer service at 1-866-518-2686. You will be able to use your QFC card number if you don't have a Fred Meyers Rewards Card, but purchases at QFC won't count, only those at Fred Meyer.
Search for our View Ridge PTA by our name or by our non-profit number 89382.
Now every time you shop and use your Rewards Card, you are helping View Ridge PTA earn a donation!  You will still earn your Rewards Points, Fuel Points, and Rebates, just as you do today.
BARTELL DRUGS
Earn up to 4% of your purchase amount for View Ridge.  All you need to do is:
Pick up a B Caring Card at any Bartell Drugs location (it's free).
Register by filling out an in store registration form, calling 800-931-6258, or registering online at https://secure.escrip.com/signin/index.jsp. If you need a View Ridge code, our school ID # is 8567592.
Shop and Earn – Present your card to the cashier at Bartell Drugs to earn for your school or non-profit.
Thank you for your support!