Last week was filled with sunshine and spirit. We had great weather and an AWESOME Spirit Week! Each day had a different theme and it was so much fun to see the creativity of both students and staff.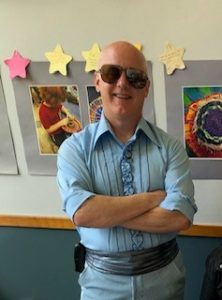 I've been having a ton of fun delivering on all of my auction contributions. I kept saying "yes" to requests and am now realizing that it was a total of 9 yeses. However, It's been a blast having lunches on the roof, wheels parties in our hallways, a parent soccer game at Arena Sports (apparently I still have it) and a couple Principals Of The Day. I have really enjoyed spending this quality time with your children.  It's well worth the 9 yeses.
We also had a chance to watch Ms. Doran's class perform a Midsummer's Night Dream on Thursday. They were fabulous!
Please be on the look-out for a form coming home via KidMail that will ask you to help us select our "Positive Behavior" value words. These values will be integral to our teaching philosophy both in and out of the classroom. Thank you for your help in making View Ridge a great place to learn!
Next week is a jam-packed week – with the highlights being today's Awards Assembly and 5th Grade Promotion on Thursday at 8:15am. Congratulations to all the 5th graders and their families. We're going to miss you next year!