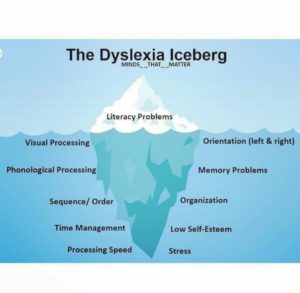 Dyslexia is shockingly common.  Did you know that 1 in 5 students have a language based learning disability? Dyslexia is the most common learning disability affecting students.  Each year, October is recognized as Dyslexia Awareness Month, a time to come together to raise awareness, share resources, and tell stories about dyslexia successes.  There are several celebrities and highly successful people who are also dyslexic:   Harrison Ford, Whoopie Goldberg, Keira Knightley, Salma Hayek, Steven Spielberg, Oprah Winfrey, Albert Einstein, Magic Johnson, Richard Branson, Steve Jobs, Mohammad Ali, and more.
The Yale Dyslexia Center has found that approximately ten to 20 percent of the population suffers from dyslexia, which accounts for 80-90 percent of all those with learning disabilities. Once enrolled in school, dyslexia signs and symptoms may become more apparent and include reading well below the expected level for age, frustration with reading and writing activities, problems processing and understanding what he or she hears, difficulty finding the right word or forming answers to questions, problems remembering the sequence of things, difficulty seeing (and occasionally hearing) similarities and differences in letters and words, an inability to sound out the pronunciation of an unfamiliar word, difficulty spelling, spending an unusually long time completing tasks that involve reading or writing and avoiding activities that involve reading.
Got questions?  Feel free to connect with our Reading Interventionist, Ms. D.
*Find out more information online at the International Dyslexia Association